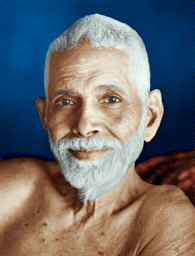 "Who Am I ?"
"As the Self of a person who tries to attain Self-realization is not different from him and as there is nothing other than or superior to him to be attained by him, Self-realization being only the realization of one's own nature, the seeker of Liberation realizes, without doubts or misconceptions, his real nature by distinguishing the eternal from the transient, and never swerves from his natural state. This is known as the practice of knowledge. This is the enquiry leading to Self-realization.
This is suitable only for the ripe souls. The rest should follow different methods according to the state of their minds."
What We Teach
Samadhi Yoga:
This knowledge is the king of education,the most secret of all secrets.It is the purest knowledge, and because it gives direct perception of the self by realization , it is the perfection of religion. It is everlasting, and it is joyfully performed.
Samadhi is both, the technique of unifying consciousness and the resulting state of ecstatic union with the object of contemplation. Christian mystics speak of this condition as the "mystical union" (unio mystica).


We are teaching also:
Hatha Yoga, Tantra Yoga, Kundalini Yoga, Qigong

Sanskrit Mantras
Aum is the basic mantra of all Sanskrit mantras. It refers to A(jagrat), U(swapna), and M(sushupti). The three regions refer to the three planes of existence, physical, astral and casual. A detailed but simple explanation of these planes is provided in the book Autobiography of a yogi. The silence which follows each utterance of Aum suggests the state of Absolute Being, or Brahman, which is the source and end of everything.
---
A Mani Stone

There are many ways to understand the meaning of the mantra. Here is one of them:
The six syllables purify the six realms of suffering-filled existence. For example, the syllable OM purifies the neurotic attachment to bliss and pride, which afflict the beings in the realm of the gods.
---
---

EMOTION

PURIFIED

SAMSARIC

REALM

OM

bliss / pride

god

MA

jealousy /

lust for entertainment

demi-god

NI

passion / desire

human

PE

stupidity / prejudice

animal

ME

poverty /

possessiveness

hungry ghost

HUNG

agression / hatred

hell
---

---
If you need more information please contact us at aferent@hotmail.com



Last updated: March 12, 2001.